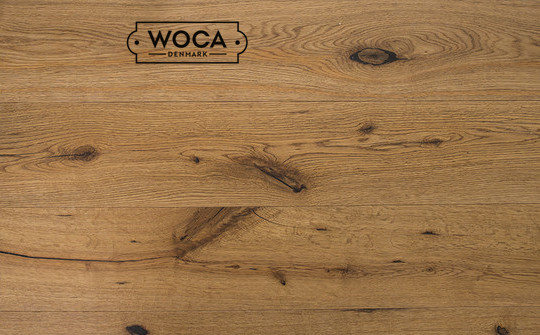 In order to meet the highest environmental protection requirements, , most people will think of Woca.
Woca is from Denmark.Woca oil finishes are known for their extreme durability and strength. Hardwood floor suppliers are chosen WOCA time after time because of the sheer reliability.
 Woca Oil is a top coat that combines natural oil and wax in a single product, ensuring an extremely robust surface with high resistance to spills and stains. It gives wood floors a natural appearance and a comfortable non-slip surface that is easy to maintain.
Wood Floor Oil may be used on all unfinished, freshly sanded, and freshly laid wood floors in all wood species.
Many advantages of the Wood Floor with Oil finished
— Ensure a strong, flexible, dirt and water-resistant surface.
— Natural wood look
It gives a natural and stylish low gloss look to your wood, Can be used on all unfinished, freshly sanded, and newly laid wood floors in all wood species.
— Lifelong span
Cheap paint reduces wood floor's lifespan at best to 6 years or less, they frequently need refinishing within 2 to 3 years. You will never replicate the factory finish. The brushed surface texture of the wood, along with the micro-bevels at the sides and ends of each wood plank or piece of parquet, will be destroyed when the floor is sanded as part of the refinishing process. So KelaiWood uses WOCA paint for surface treatment more to meet higher quality and natural wood grain.
WOCA oil finishes penetrate the wood and harden to create a strong, lasting seal. With regular cleaning and maintenance of the wood flooring, wood floors covered in a WOCA oil finish can go for decades without being refinished.