Kelaiwood has eight drying kilns. This kiln facility helps control the moisture of Kelai boards during drying and is also a much faster process than drying outside in the open air. Different flooring species need different standards to dry. ( such as time, temperature, moisture, ect.)
The classified veneers and plywood are stacked and deployed in kilns for 7-10 days of moisture balance, to induce them with suitable moisture levels, ensuring glued floorboards free from bowing or bending.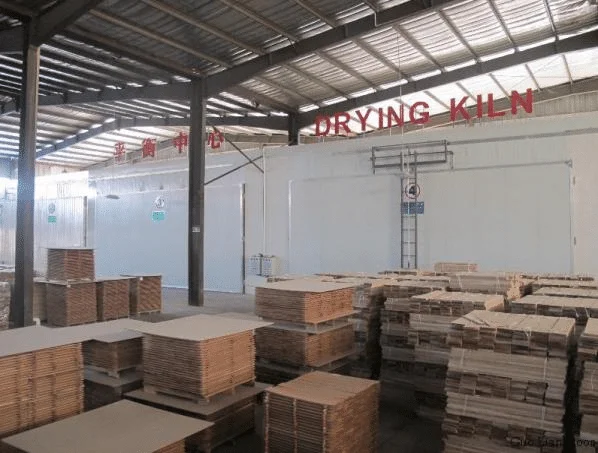 Glue the veneer on the plywood base board.The temperature is about 115 degrees Celsius, and the coating amount is about 200g. Our factory uses the environmentally friendly adhesive(FRANKLIN glue which is friendly environmentally. And our flooring meets the E1 standard) to glue the veneer to the substrate and press it to get the flooring.
Kelaiwood cold pressing is call EPI as well. The glue is applied to the plywood and lamella is added. The cold press hardens the glue with precise amount of high pressure 12kg/cm2 to joint the plywood and lamellas boards together. Kelaiwood cold pressing standard:the ambient temperature >35 ℃, the cold pressing time is 40 minutes; the ambient temperature is <35 ℃, and the cold pressing time is 50 minutes.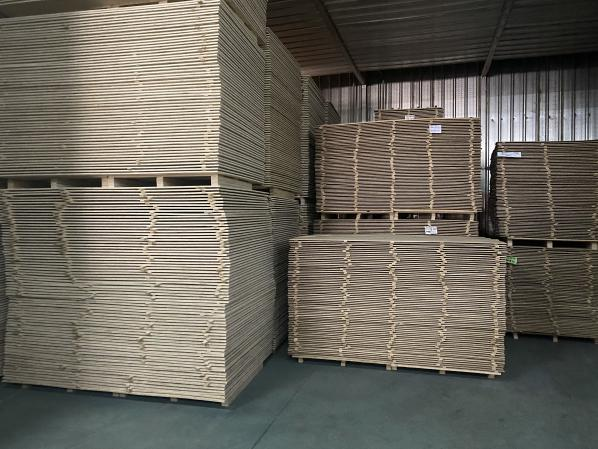 Balance conditions: Boards are stacked piece by piece. Then keep them in the Balance room which is ventilated and dry.
Kelaiwood Balance time: above 72H  Moisture content control: 6%-10%
After cold press, the boards are transmitted to repairing department for treatment of defects in which knots and crack. The extent of repair will depend on the type of cracks. Kelai workers will removed all loose particles around the crack, then patched and fixed with fluid epoxy resin such as 8 shades of epoxy resin.
The boards are transmitted through sawing machine to produce individual pieces of flooring boards.
Flooring boards are sanded to ensure similar thickness is maintained prior to T and G profiling. The boards are simultaneously checked for thickness during this process.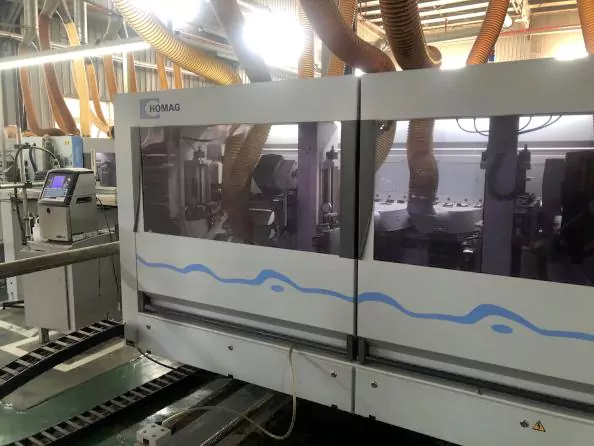 The accuracy of milling will decide the quality of flooring as well. Both best used the Homag machine which was imported from Germany and is the number 1 milling machine in the flooring industry. Accurate Tongue & Groove and slight bevel can be achieved through equipment processing.The tolerance can be controlled in 0.05mm.
Wire brushed craft makes the wood grain of flooring more stereoscopic, glossy and beautiful. The depth of brushed: 0.5-1.0mm, 1.5-2mm.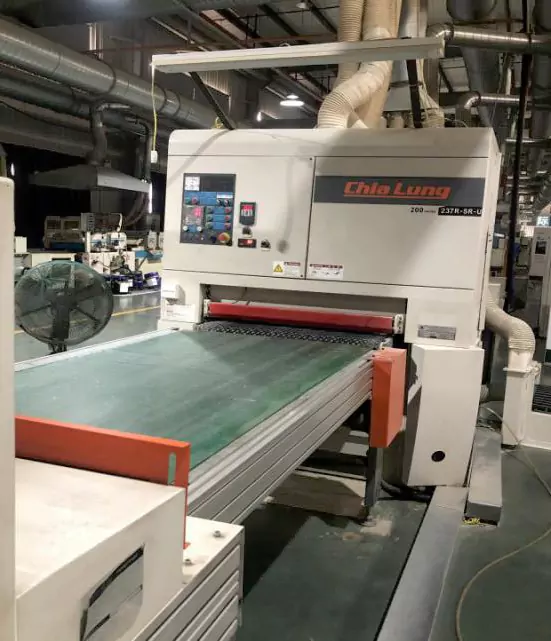 Kelaiwood has three coating line which manufactured by Taiwan Fengchaou Machinery. The full-length lines is up to 130 meters.
Unfinished floor pieces are transmitted through coating line with lacquered flooring finish, or an UV oiled. Usually, use 7-9 layers all Germany Treffert UV coating(anti-scratch, superior wear-resistant lacquer,rolling coating technology);use Demark Woca Natural Oil finish(maximum impact resistance,clear,vivid textures and colors)
All finished kelai engineered hardwood floor, are covered by an Anti-wet plastic box as export standard. Flooring information labels will be marked on each carton.
Flooring will be in different size pallets (IPPC),covered well by plastic anti-wet film and cardboard, also to meet different weights, covenlent covenant cargo for safe transportation and easy extraction.
Vacuum packaging is sealed from the bag in an airtight manner to keep out water vapor. Vacuum packaging helps to maintain wood flooring quality.
Kelaiwood has focused on advanced equipments has been put into use to improve the efficiency of production. On-time delivery is our promise.
Core Veneer Selection
Engineered flooring is installed in dry areas as a heating floor, so dimensional stability is critical. To prevent the problem of cracking in the dry season, the surface of the engineered flooring is finished with high quality, rare wood species and low moisture content wood finish.

Gluing Core Boards
Gluing is done with professional equipment to ensure even gluing and improve efficiency. 8-10 layers of thin wood boards are cross-layered in an orderly manner and glued together, which can change the extension direction of the log fiber. It is this step that completely improves the limitation of expansion and contraction of solid wood.
Sanding Substrate
We sand the surface and bottom of the substrate with precise thickness to ensure the flatness and surface finish of the boards, this improving the precision of the flooring and providing a reliable guarantee for pressing rare wood species veneers on the substrate.
Substrate Balance
After the initial processing is completed, careful sorting will be performed to reject substandard products. After high temperature and pressure, larger substrate stress is inside the substrate, so it takes 15 to 20 days to balance and stabilize the substrate by releasing this internal stress.