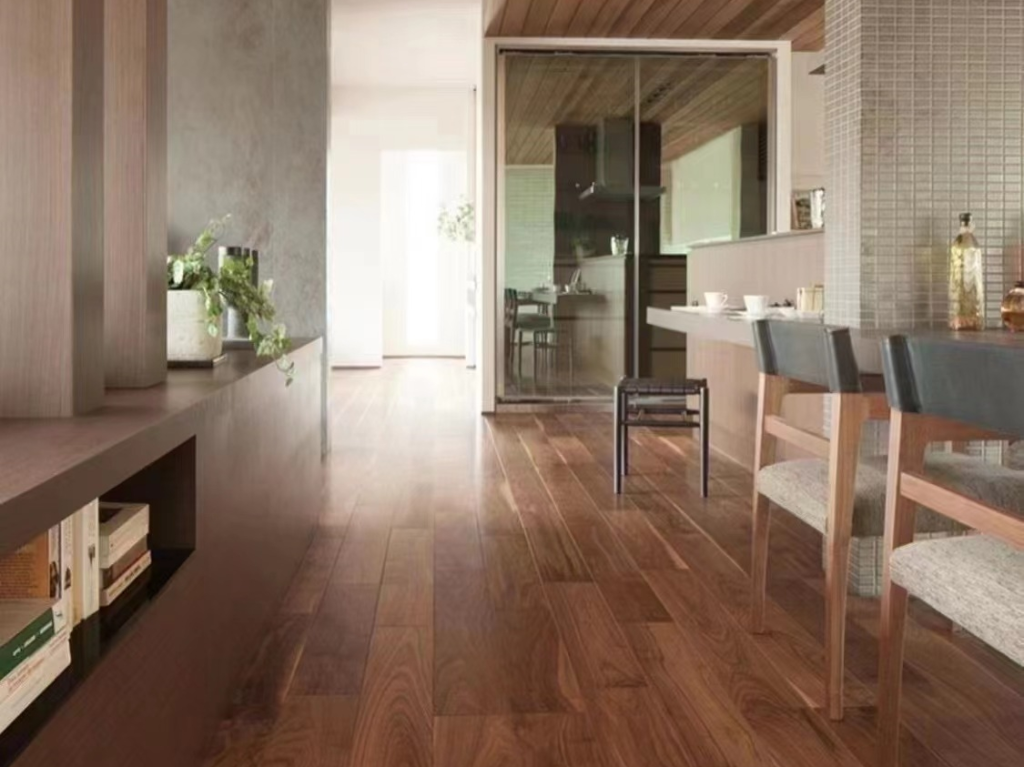 Black Walnut is a type of wood native to North America, with a stable air-dried density of 0.85g/cm. It is widely distributed in the eastern United States and is odorless and flavorless. Black Walnut has a straight and fine texture, with creamy white sapwood and light brown to black heartwood. Occasionally, it may exhibit purple cracks and darker streaks. This wood possesses excellent mechanical processing properties, making it highly suitable for painting and dyeing.
Black Walnut hardwood flooring features beautiful grain patterns and a balanced blend of softness and hardness, as well as exceptional carving capabilities. Over time, the texture becomes even more elegant and captivating. A simple natural finish is enough to showcase its noble beauty.
The inherent mystique and unique character of Black Walnut hardwood flooring create a captivating ambiance in any space, offering a distinctive visual experience and showcasing a unique style of high-end living. Crafted from the finest quality Black Walnut wood, this flooring instantly adds charm and character to any space.
American Walnut is known for its stable wood properties, easy drying, and minimal shrinkage, making it highly durable and long-lasting. American Walnut hardwood flooring not only enhances the aesthetics of a home but also requires easy maintenance. The smooth surface naturally resists stains and scratches, making cleaning convenient and allowing you to spend more time enjoying the beauty of your floors while reducing maintenance efforts.
The timeless beauty of American Walnut hardwood flooring elevates the sophistication of your living space. Choose Black Walnut hardwood flooring to showcase its distinctive charm and add a touch of luxury to your home.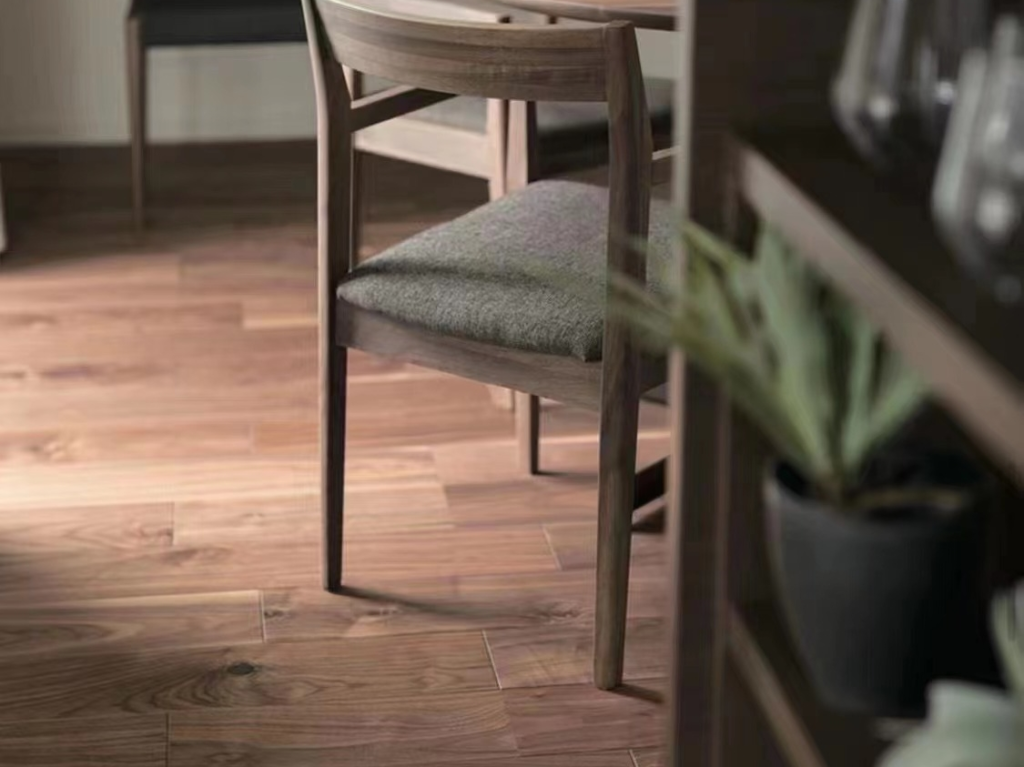 Here are some popular trends in Black Walnut hardwood flooring that will help you gain a better understanding:
1. Focus on quality and sustainability: Increasingly, consumers are placing greater emphasis on the quality and environmental sustainability of flooring. Black Walnut hardwood flooring is preferred for its superior quality and environmentally-friendly characteristics.
2. Large sizes and wide planks: In modern home design, large sizes and wide plank flooring are becoming increasingly popular. Black Walnut hardwood flooring can create a more spacious and contemporary feel.
3. Deep and natural tones: Dark flooring has always been a symbol of fashion and luxury, while Black Walnut hardwood flooring exhibits natural deep tones, creating a warm and inviting atmosphere.
4. Handcrafted flooring: Handcrafted flooring offers unique patterns and personalized designs, adding a touch of artistic flair to a space. Black Walnut hardwood flooring is an ideal choice for handcrafted flooring.
Choose quality, choose elegance, choose Kelaiwood Black Walnut hardwood flooring.